Pizza and Title I Family Information Night Tonight! 6:00 pm is dinner. Program at 6:30. Childcare will be provided.

Reminder - Picture Day is tomorrow!

UG Community Meeting for the Union Gap Community Center/Library at City Hall/Civic Center on Thursday at 6 pm.

Happy Friday! Enjoy a long weekend! No school on Monday. See you Tuesday!

Free Sports Physicals! Friday at Yakima Valley Urgent Care in Union Gap next to Party City from Noon to 4 pm!

Band Information Night - Tonight 4:00 - 6:00 pm. Any students or parents interested in learning more about middle school band (6th - 8th) come join us in the multipurpose room. Mrs. Doria & Ted Brown Music would love to see you all and answer any questions you have.

Ready or Not! School starts tomorrow! School opens for breakfast at 7:45 am. School starts at 8:25 for grades 6-8 and 8:30 for everyone else. Be early - check in lines will be long! Bring your ID to enter building. Safety first!

Meet and Greet Tonight! 4:30 - 6:30 pm. See you then!

New electronic readerboard! Bear with us while we learn our new system!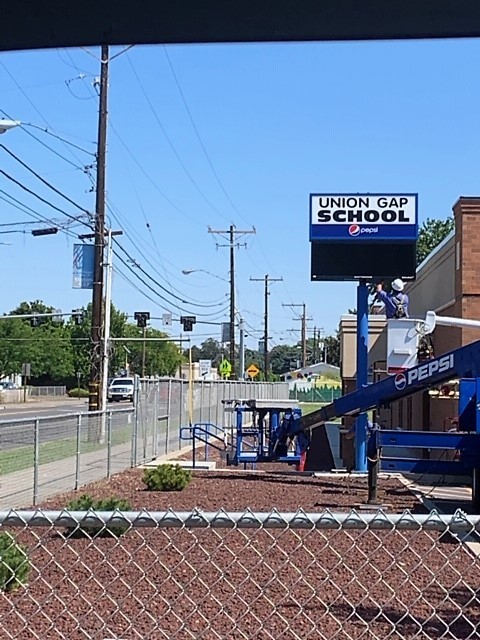 Attendance Matters


All 7th and 8th grade students are encouraged to sign up for fall sports. Volleyball and Football begin on Monday, August 26th. All interested participants please provide a copy of a current sports physical to the school's main office.

Community Center and Library meeting will be at the Civic Center at 7 pm tomorrow evening. What do you want to see in your library and community center? Come share your ideas and sign up for a chance to win a free dinner from a Union Gap restaurant!

National Night Out! Tomorrow (Tuesday) from 5:30 - 7:30 pm at Loudon Park. It is for the entire community! Free food and prizes!


Surviving Middle School parent/student program tonight! It is appropriate for all students/parents grades 3rd - 8th! I know the title is confusing so I clarified with the instructors. Hope to see you all there at 5:30 pm for dinner and then some learning!


Kindergarten graduation today at 9:30 am. School opens at 9:00 am for seating.

Yearbooks are in! Come to the library to pick up your pre-ordered yearbook or purchase one for $8 while supplies last.

2019-2020 Prekindergarten Applications will begin being accepted tomorrow (Friday, May 3rd). We are doing applications this year to get the number of students eligible and parents interested in the program before we determine how/if the program is run. Parents who complete an application will be contacted individually by the end of June. Applications can be completed in the school office. Eligible students must live in district boundaries.