EMPLOYEE BENEFITS AND INFORMATION
RETIREMENT SAVING OPTIONS
Deferred Compensation Program (457 plan):
Deferred Compensation Program (DCP) is a voluntary saving program that helps public employees save for retirement (IRC 457 plan). Contributions to DCP are deducted from your earnings before taxes. You can contribute as little as $30 per month up to a maximum of $19,500 per year (for 2018). Below is also a link to the Department of Retirement Services website for DCP with a short video, enrollment instructions and additional information.
https://savewithwa.empower-retirement.com/preLoginContentLink.do?accu=DRSWR&contentUrl=preLogin.Tab3.landing&specificBundle=preLogin
403(b) Plan:
A 403(b) plan allows you to contribute a portion of your compensation on a pre-tax basis (via a payroll deduction) in order to save for your retirement. Both your pre-tax contributions and earnings grow tax-free until they are withdrawn.
Contribution limits are dependent on a number of factors. The base limit is $19,500 in 2020. Employees over the age of 50 are automatically eligible to increase this amount to $26,000. Individuals with moe than 15 years of consecutive services with the Union Gap School District may be eligible to contribute up to an additional $3,000 beyond their age based maximum.
What is the difference between the DCP (457) and the 403(b) plans?
The 403(b) plans are held by you, the employee, either in an annuity or a custodial account if you invest in mutual funds. The 457 plan (DCP) is held in a contract by the employer through DRS (Department of Retirement Services).

What is the difference between the DCP (457) and the 403(b) plans?
The 403(b) plans are held by you, the employee, either in an annuity or a custodial account if you invest in mutual funds. The 457 plan (DCP) is held in a contract by the employer through DRS (Department of Retirement Services).
OPTIONAL SUPPLEMENTAL BENEFITS THROUGH AFLAC
The following Aflac group insurance plans are available to employees:
Group Accident Insurance

Group Critical Illness Insurance

Group Hospital Indemnity Insurance
Aflac Group Policy Flyer (Information and Rates)
For additional information or to enroll in any of these plans please contact the District's Aflac Representative:
Tricia Charles
Phone: 509-833-1215
Email: Tricia_charles@us.aflac.com
SCHOOL EMPLOYEES BENEFITS BOARD (SEBB)
All Washington State school districts, educational service districts (ESDs), and charter schools receive benefits for their eligible employees through the SEBB Program.
Who is eligible for SEBB?

What does it include?


Medical, Vision and Dental Coverage

Basic Long Term Disability Insurance

Basic AD&D (Accidental Death and Dismemberment) Insurance

Basic Life Insurance

Are there supplemental benefits? YES!


Additional LTD, AD&D, and Life insurance is available at an additional cost

Flexible Spending Account (FSA)

Health Savings Account (HSA) – if eligible

And More. Information is available on the SEBB website.

Additional benefits available through Aflac policies
EMPLOYEES WITH CHILDREN IMPACTED BY SCHOOL CLOSURE OR CHILD CARE UNAVAILABILITY:
When services on-site are required for a particular assignment, and an employee is unable to fulfill that assignment, the District will make every reasonable effort to find alternative work-from-home assignments for employees who are willing, prepared and available to do so.
If work-from-home assignments are not available for an employee unable to fulfill an assignment at a District worksite, the District will work with each employee to identify all of the available paid leave, unpaid leave, insurance benefits, and other governmental benefits available under law or the applicable bargaining agreement.
To request accommodations to work from home while the District is in a virtual learning model due to your child(ren)'s school or daycare provider being closed or unavailable due to reasons related to COVID-19 - please complete the below form and submit to the District Office.
Accommodation Request Due to School Closure/Child Care Unavailability
COVID LEAVE-SCENARIOS & BENEFITS AVAILABLE
See the chart below for information on what leaves are available to you. The following sections provide additional information and application forms for FFCRA, PFML and FMLA leaves.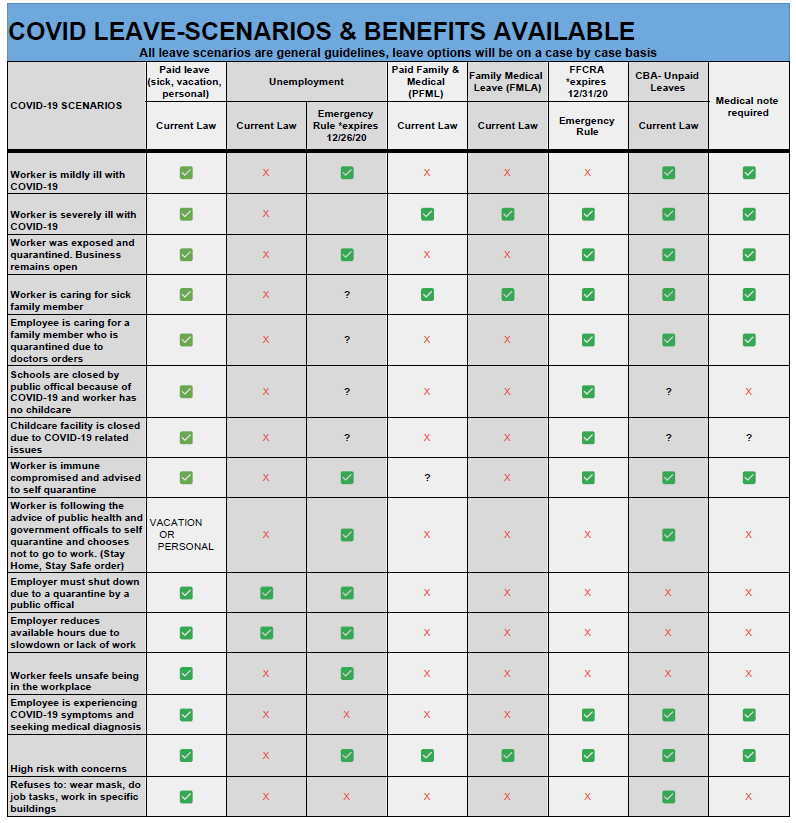 FAMILIES FIRST CORONAVIRUS RESPONSE ACT (FFCRA)
The Families First Coronavirus Response Act (FFCRA) requires certain employers to provide employees with paid sick leave or expanded family and medical leave for specified reasons related to COVID-19. Below are some informational links about eligible employees and benefits available:
If you intend to use FFCRA paid sick leave or expanded family and medical leave you must provide your employer notice and supporting documentation by submitting a completed Families First Coronavirus Response Act Leave Request Form.
The form is available here: Leave Request Form
Please contact the District Office for assistance.
WASHINGTON PAID FAMILY AND MEDICAL LEAVE (PFML)
Eligible Washington workers are able to use Paid Family and Medical Leave benefits starting in January 2020. These benefits will generally allow up to 12 weeks of paid leave per year to care for yourself or your family. This is a statewide insurance program, so workers and employers will contribute premiums together through payroll withholding.
View more information on these benefits
Employees must notify the employer (in writing) of their intent to use Paid Family Medical Leave at least 30 days prior to taking PFML leave. The PFML intent form can be found at the link below.
FAMILY MEDICAL LEAVE ACT (FMLA)
The Family Medical Leave Act (FMLA) entitles eligible employees of covered employers to take unpaid, job-protected leave for specified family and medical reasons with continuation of group health insurance coverage under the same terms and conditions as if the employee had not taken leave. Eligible employees are entitled to:
Twelve workweeks of leave in a 12-month period for:
the birth of a child and to care for the newborn child within one year of birth;

the placement with the employee of a child for adoption or foster care and to care for the newly placed child within one year of placement;

to care for the employee's spouse, child, or parent who has a serious health condition;

a serious health condition that makes the employee unable to perform the essential functions of his or her job;

any qualifying exigency arising out of the fact that the employee's spouse, son, daughter, or parent is a covered military member on "covered active duty;" or
Twenty-six workweeks of leave during a single 12-month period to care for a covered servicemember with a serious injury or illness if the eligible employee is the servicemember's spouse, son, daughter, parent, or next of kin (military caregiver leave).
Visit the FMLA website for more information: https://www.dol.gov/agencies/whd/fmla
WASHINGTON COLLEGE SAVINGS PLANS (529 PLANS)
GET (Guaranteed Education Tuition) 529 Program - Prepay future college tuition today to ensure peace of mind as your student grows.
DreamAhead 529 College Investment Plan - Choose from multiple investment options to add flexibility to your savings.
More information available at https://wastate529.wa.gov/